The Count Down Is On…
Less Than 3 Days Until…
BRAND NEW HOME & LAND RELEASED TO MARKET IN BOOMING NORTH GOLD COAST
"Big Sky Estate"
Coomera
Wednesday 27 January at 12 noon
New Westfield Town Centre including Train Station, Government Offices, Cinema and more within a minute on Western Side of Big Sky Lots.
Billion Dollar Golf Course Up-Grade and Club House within 2minutes on the Northern Side.
Multmillion Dollar Homes of Coomera Waters, Hope Island, Sanctuary Cove and Soverign Island on the South & Western Side.
Coomera River, Direct Seaway Access & the Most Comprehensive Marine Facility in the Southern Hemisphere within 2minutes on the South of the Project and more…
LOCATED AT THE GATEWAY TO THE GOLD COAST, BIG SKY IS MINUTES FROM MAGNIFICENT BEACHES AND EVERYTHING YOU LOVE ABOUT THE GOLD COAST.
With convenient access to the Coomera Rail Station and the M1 motorway, Big Sky is an easy reach of Brisbane and the whole of the Gold Coast. The Coomera Region is currently experiencing extraordinary growth and this is set to continue with a range of big infrastructure projects planned. The biggest of which is the Coomera Town Centre, which is destined to become the region's retail and entertainment hub.
LOCATION
Located at the northern end of the Gold Coast, Big Sky Coomera offers…
35-45mins to Brisbane CBD
15mins to University and Hospitals
25mins to Gold Coast best beaches
5mins to Golf Course, Train, Motorway & Marine Precinct and more…
POPULATION GROWTH
The Coomera statiscal area has a curernt population of an estimate 11,230 which is forecast to grow over 69,000 by 2031. Coomera region recorded the fastest growth rate on the Gold Coast, 8.7%. 1.9% for Gold Coast overall. The Gold Coast is growing an estimate 10,000 persons per year, which is 190 new resident every week.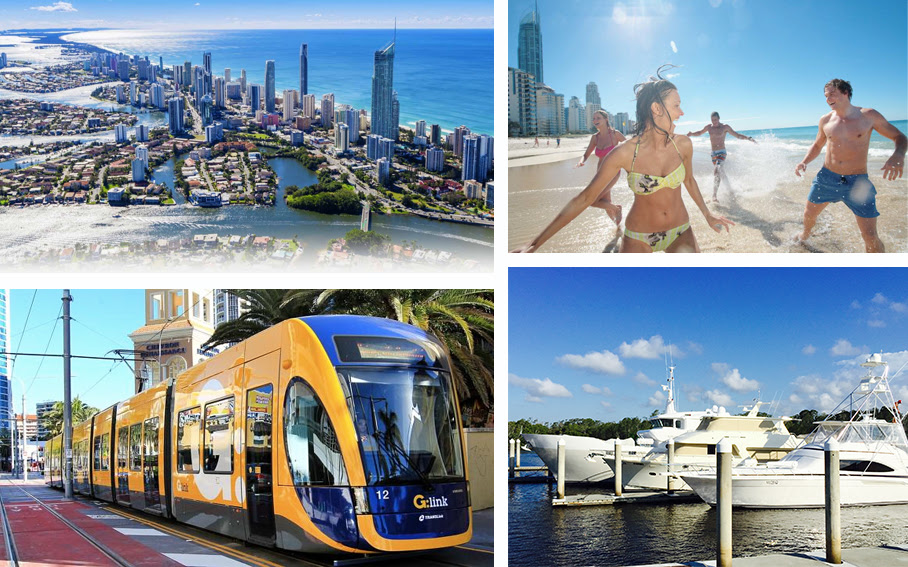 INFRASTRUCTURE
The extraordinary growth being experienced is set to continue.
within minutes to NEW COOMERA TOWN CENTRE which is destined to become the regions major retail and entertainment precinct – $500million project
Exit 54 up grade – $74million project
Coomera Sports and Leisure Centre – $40million project for the 2018 Commonwealth Games
Gold Coast's Coomera Town Centre is Now Underway…
Activity has begun on the Coomera Town Centre site
Stage 1 of the Westfield Development set to include the area with major shopping precinct, activity centres and transit hub including
Cinema,
Department Store,
Fast food Premises,
Retail service establishments,
Tavern,
Nightclub and more
To allow convenienct acces to the Coomera Town Centre, construction of the Exit 54 interchange upgrade is well ahead of schedule. According to Department of Transport and Main Roads the road upgrade should be completed by the end of 2016, in time for Westfield's planned opening of its new Coomera Town Centre!
EMPLOYMENT OPPORTUNITIES
With forecasts stating 350,000 people moving to the Gold Coast over the next 20 years, this is set to fuel demand for 130,000 new homes and 150,000 new jobs.
Gold Coasts industry strenghts are:
Tourism – 12million visitors each year
Education
IT
Film Production
Sports
Health
Marine
Construction and more..
Gold Coast contributes an estimate 12% to Qld's total employment figures.
The 2018 Commonwealth Games will inject a new wave of opportunity with media leverage and more.
RENTAL DEMAND
Coomera has a 2.2% vacancy rate
3-4 bedroom home median rental return $390-$440pw in March 2015
Forecast expect at least 8.3% or more
BRAND NEW HOME & LAND LAUNCHED TO MARKET
Big Sky Estate, Coomera
GOLD COAST NORTH
Wednesday 7 January at 12 noon