Currently sitting at below USD$0.75, the Australian dollar has reached its lowest point in six years. What are the implications for the Australian property market and renovation costs?
The team at comparison website finder.com.au have put together a great piece that explains the pros and cons and how the dollar impacts housing:
The Australian dollar's sharp decline may favour residential construction and domestic suppliers, but Australian businesses or renovators that rely heavily on imported construction materials should expect price increases in the short-medium term.
According to analysis by the HIA Economics Group, the depreciating domestic currency will result in more expensive imported goods, which means renovators may want to avoid importing goods from offshore suppliers if they want to cut costs.
The plummeting Australian dollar
In recent months, the Australian dollar has depreciated drastically against currencies of its core trading partners, notably the US dollar. Falling from USD$0.94 in September 2014 to USD$0.78 in August 2015, AUD$1 is now worth just USD$0.73, which represents a historic low.
Prompted by plummeting commodity prices and low interest rates, the Australian dollar is now considered one of the most volatile global currencies and is expected to sink even lower than its current value of USD$0.73.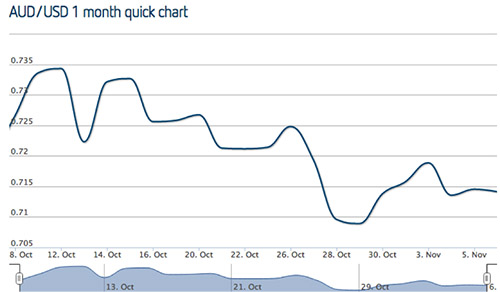 Source: OxForex, November 2015
Pros and cons of a low Australian dollar
Economic growth: Small businesses benefit from greater economic growth in the domestic sector. Business exporters are 'winners' in this situation as they benefit from increased competitiveness that results from a lower exchange rate.
Offset commodity crisis: A low Australian dollar against a rising US dollar may offset some of the impacts of the commodity crisis, which is good news for Australians.
Superannuation funds: A weaker domestic currency can assist Australian superannuation funds because of the vast amount of global equity held by the majority of funds.
More expensive imports: Overseas purchases and imports become more expensive with a weaker currency, which means that the cost of importing goods for a renovation becomes less affordable.
Further rate cuts unlikely: As the Reserve Bank has recently eased monetary policy by slashing the official cash rate to its current 2.0% status, it's unlikely that these rate cuts will continue with a softening Australian dollar. This means that the cost of borrowing becomes more expensive if interest rates rise. According to a recent finder.com.au survey, nearly 25% of resident rate experts predict a rate rise will occur in the fourth quarter of 2016.
Foreign investment: A low dollar means that Australia represents an attractive investment location for US investors. Increased demand from offshore investors may push up property prices and squeeze out domestic buyers.
What has contributed to the depreciating Australian dollar?
Generally, movement in the dollar is influenced by commodity prices and movement in foreign currencies, overseas markets and interest rates.
US recovery: As the US economy sweeps through its recovery phase, the value of the Australian dollar weakens.
Falling commodity prices: Over the past 12 months, commodity prices have fallen drastically and this has contributed to a lower dollar, particularly as Australia relies heavily on the mining sector.
Low cash rate: Currently sitting at 2.0%, the low cash rate has accelerated demand for finance approvals, which has put downward pressure on the Australian dollar.
How will a weaker Australian dollar impact renovation costs?
A 2013 study by Homesafe Group found that fluctuations in the Australian dollar can increase home renovation costs by 5-10% on average. This means that you may need to adjust your budget accordingly to compensate for the higher cost of imported goods, such as electrical fittings and air conditioners.
As imports become relatively expensive compared to domestically produced products, domestic demand will begin to favour local manufacturers, particularly amongst businesses that supply materials to the building industry.
How will a depreciating Australian dollar impact construction activity?
When the dollar is low, our exports become cheaper for foreign countries to buy, but our imports become more expensive.
A weaker dollar will result in higher prices for imported goods, which means that household incomes will suffer in terms of purchasing power for construction inputs. This is likely to weaken demand for home building and renovation activity in the short term.
However, these higher construction costs may be offset by record low interest rates of 2.0% which provide borrowers with increased borrowing capacity as well as greater access to finance, such as construction home loans or personal loans. It's predicted that there will be increased activity for renovations and new builds throughout the second half of 2015 and throughout 2016.
Construction would suffer from higher costs in the short term but benefit over the medium term.
How can I avoid higher renovation costs?
If a large proportion of your building materials are sourced from overseas, it may be a good idea to reconsider your choice of supplier and favour local businesses. Supporting Australian businesses not only stimulates the Australian economy by creating jobs, it could also allow you to keep your home renovation costs down by 5-10%.
What does a lower Australian dollar mean for the property market?
More foreign investment: A lower dollar makes Australian property more attractive to offshore investors. For instance, when the Australian dollar is on par with the US dollar, a $450,000 property costs a US investor $450,000. The same property would cost just $315,000 if AUD$1 is worth just USD$0.70.
Rising prices in tourist areas: A lower dollar makes Australia more attractive to both international and domestic tourists, which can provide an injection to tourist areas and potentially push up property prices in areas such as Cairns and the Gold Coast.
Property prices near mining areas: A lower dollar is likely to have an adverse affect on property prices near mining downs due to foreclosures.
What's in store for the Australian dollar?
A weaker domestic currency may be here to stay, so what are experts tipping the currency will be in the near future?
A recent Bloomberg survey forecasts that the Australian dollar will remain around USD$0.75 through to the end of 2015 and may lift slightly to USD$0.77 in the final quarter of 2016.
The expert panel from our recent finder.com.au survey were divided about future prospects for the Australian dollar. The majority (76%) predicted that it will fall below USD$0.65 this cycle, but they were torn about when the currency will reach its lowest value.
With just 14% of respondents believing the dollar will hit its lowest value by the end of 2015, the majority (72%) expect this to happen in 2016. The remaining 14% believe that the dollar will fall to its lowest point beyond 2016.
Our money expert, Michelle Hutchison, says that the domestic currency is likely to depreciate further before it recovers.
"It's daunting to think just last year in July 2014 the Australian dollar was buying almost USD$0.95 and we were trading at parity with the United States from June 2012 to May 2013. Fast forward to September 2015 and the overwhelming majority of experts (86%) in our latest survey predict the Aussie dollar will fall to USD$0.70 by the end of this calendar year, with over 2 in 5 believing it will plummet further – to USD$0.65 – by year's end. This can have a significant knock-on effect for Australians, especially those heading overseas this summer.
"International money transfers and overseas property investment are also likely to be adversely affected," says Hutchison. "Whether you're sending money overseas, buying anything offshore, travelling abroad or have a home loan, keep track of both movements to the Aussie dollar and interest rates as next year is set to get tougher."
While fluctuations in the Australian dollar may have an impact on the property market and renovation costs, it's important to note that other economic factors also play a part, including levels of household debt, interest rates, unemployment, consumer confidence and industry regulations.
*This exchange rate was obtained in November 2015 and may be subject to fluctuation. Article source.
If you're looking for cheap, quick, and convenient ways to send money overseas, compare international money transfer services using Money Transfer Finder™
Jason Thomson | Mortgage Adviser and Finance Broker | Smartline Cairns